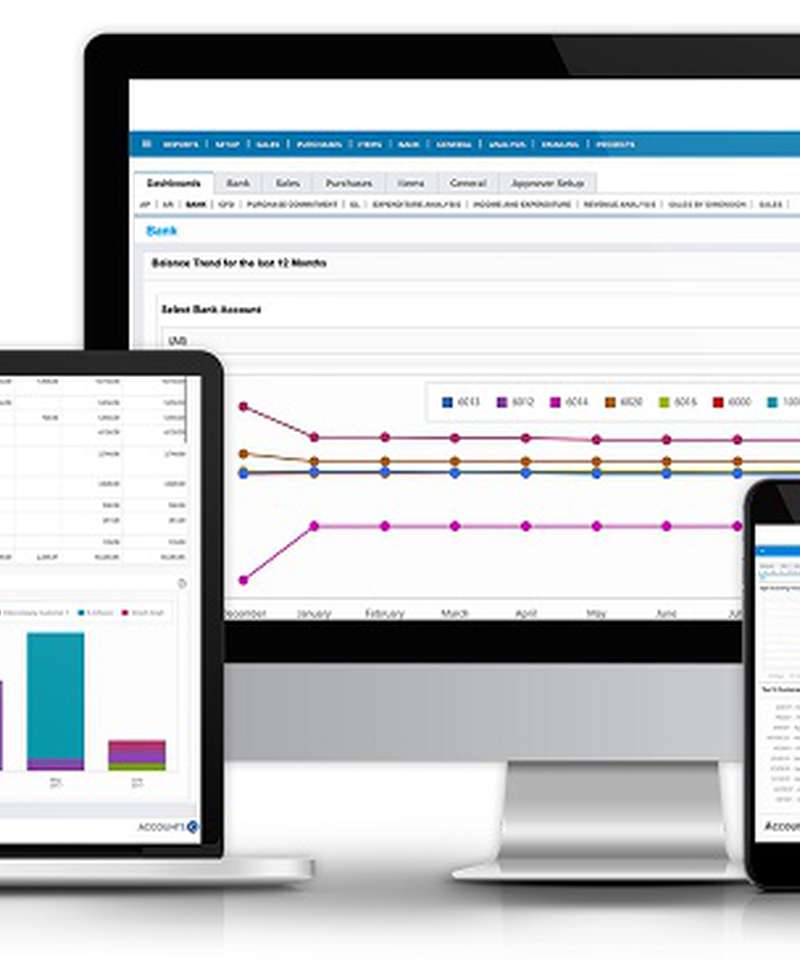 If you're planning an accounting software upgrade, it's important to make the best choice for your company. Discover and choose the right cloud accounting software for your needs.
What features do the best cloud accounting software have, and what are the benefits?
In the old days, your accounting software would be installed on a computer in your office, and that's where it would stay. You'd have to log in to that machine to use it and install updates regularly. If you couldn't make it to the office, you'd be unable to access your accounts. These days, the best accounting software is located in the cloud, on a remote server. You can log in and access it wherever you are, and it's updated automatically.
Use it on the move.
When your accounting software is in the cloud, you can log in from any device, wherever you are, as long as you have an internet connection. It's great for working from home or the office.
Stay secure.
With cloud accounting, you don't need to worry about protecting or updating your software – it's all done for you, so you can get on with what's important.
Get real-time data.
A cloud-based system is always live, so no matter when you log in, you'll always get access to the latest financial figures. If you've integrated it with your CRM, booking system or banking app, they'll all link together for up-to-the-minute real-time reports.
Collaborate and integrate.
In the cloud, it's easy to connect with others. Multiple colleagues can all log into your accounting system and see live updates and you can approve invoices, POs and expenses via our mobile app whilst travelling too. You can integrate your accounting software with other cloud-based systems, like your banking software or CRM to create even more efficiencies.
Save money.
Subscribing to a software-as-a-service (SaaS) solution rather than buying your own package works out cheaper in the long run, and IT hosting and support is all included in the package.
Performance, features and functionality to look for
What makes a good cloud accounting solution? Here are some of the key things to look out for, when you're considering suppliers.
Features and functionality
Can it consolidate accounts from multiple entities and in different currencies, without the need for fiddly workarounds? Will you need to design your working processes around the software, or will it work for you? Will it save you time and effort?
Scalability
Is your chosen accounting software flexible enough to grow with your requirements, where it is easy to add additional entities and extra modules as and when you need them? Can it integrate with other best-of-breed cloud apps to give you the efficiencies your business needs? This is really important if you plan to grow your company in the next 5 years.
Easy to implement
Affordability
Award-winning cloud accounting software from AccountsIQ
Recently named Mid-Market and Enterprise Accounting Software of the Year for the second year running, AccountsIQ is the best cloud accounting software for growing businesses. The voting for the Accounting Excellence Awards is done by actual users of the product, and the win reflects the satisfaction of our client base with an accounting product that's designed for their needs.
AccountsIQ's award-winning accounting software simplifies how finance functions capture, process and report the results of multiple location businesses.
Built for the cloud, AccountsIQ is ideal for dynamic businesses that are growing locally or internationally, via subsidiaries, acquisition or through a franchising model, while allowing easy central control and consolidated reporting of results. The unique consolidation engine, along with its ability to integrate with other applications, makes it easy to scale.
Here are some of the features that make AccountsIQ stand out from the rest:
Multi entity accounting. You can easily manage your multi company accounting and handle full group consolidation for Groups and Entities with reports generated in one click.
Superior financial reporting capability, with a suite of 250 reports  and dashboards with editable parameters and extended department analysis (up to 6 dimensions e.g. dept, sector, project etc)  that gives you the exact insight you need across your business, and graphic visualisations that provide an instant snapshot of real-time figures.
Advanced functionality, with a powerful, flexible 3 level General Ledger, feature-rich Journal Manager, Accounts Receivable & Accounts Payable and additional modules such as workflow approval, an expense & workflow approval mobile app and an integrated fixed asset register
Superior user experience and interface,  AccountsIQ is simple to use with customisable tools, a transaction browser for drill-down to transaction level, and full user profiling & audit trail.
Affordable software that's a good fit for a range of growing and medium size companies, of different sizes and sectors
Read more about the key features of  AccountsIQ's accounting software in the cloud, and contact us to request a demo.