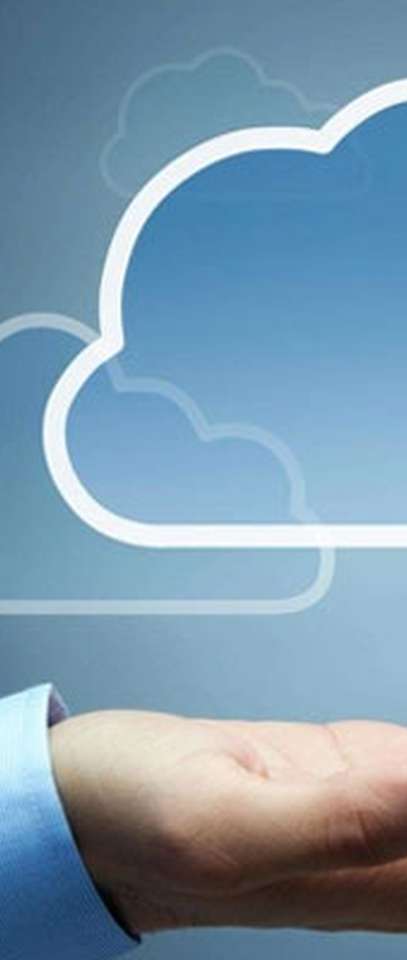 It's increasingly being recognised that "Cloud accounting" solutions are now rapidly becoming mainstream in terms of providing superior, much more efficient, and highly cost-effective infrastructure strategies versus traditional in-house servers – both in terms of computing hardware resources and continuous software and functionality delivery.  Major ERP solutions have recently pitched in saying that their future direction is leaning very much in this direction – and no wonder given the shift of more and more firms and corporates adopting this approach!
However, there are still many who do not fully understand and/or appreciate the benefits of the Cloud. We have created a series of articles highlighting what the Cloud is, and what are its benefits.  In this first paper in our series of exploring Cloud Accounting we set out exactly what the Cloud is, how the SaaS model works, and we then highlight the advantages of the Cloud.
An Introduction to Cloud accounting
The Cloud refers to the practice of using remote Datacentres to locate one's IT infrastructure (computers and software) rather than the use of local in-house servers.  These Datacentres are equipped with the very highest levels of penetration defence and firewalls, anti-hacking and anti-denial of service protections, together with strict controls over physical access.  Power security is achieved through connection to a least two separate electricity grid sub-stations backed up by in-house Battery Storage and Diesel Generators in the event of a prolonged power outage (and indeed most Tier 4 datacentres will also have their own off site fuel storage facilities).  The Datacentres are also equipped with the most up to date and comprehensive fire and other contingency protection facilities and these defensive and safety systems are fully tested at a minimum of once a month.
In addition, they are manned 24 hours a day, provide for automatic and continuous data backup using replication techniques onto separate storage devices followed by frequent off-site backup onto remote storage facilities in a twin data centre.  Tier 4 Datacentres generally guarantee up-time in excess of 99.98% (inclusive of planned downtime).  All in all these facilities and service levels could not be surpassed except in those organisations with an annual IT Budget far in excess of that of most businesses.  Economies of scale are achieved by the Datacentre operators through rental of space in their facilities to many different Clients like AccountsIQ, who, in turn, further achieve economies of scale by providing extensive infrastructure with unlimited storage and computing power to our own Customers using the extensive AccountsIQ IT resources located in Datacentres in the USA, United Kingdom and Australia.
Customer access to the facilities is through an Internet connection from anywhere in the world.  Cloud Software providers, such as AccountsIQ, use these Datacentres to host their Application Software and then charge Customers a monthly fee in order to (a) use the software and (b) to store the customers' data within the Datacentre.  This is known as "Software as a Service" or SaaS.  You, the Customer, never actually possess the application software (unlike when you purchase a traditional application which you then install on your PC or local server) but rather "rent" the software. The data stored within the datacentre as a result of you using the application (current and historical data) is owned by you, the Customer, and when you cease to use the software, it is then returned to you.
The SaaS model is also creating a new kind of dynamic relationship between the Application Software provider and the Customer.  It used to be that the Customer purchased and implemented a "fixed" version of a Product and either subsequently purchased an enhanced upgraded version of the product or received an upgraded version by virtue of his on-going maintenance payments.  These upgrades were, of necessity, periodic and sometimes very upsetting in terms of the Client's continuous operation of the software – requiring installation and possibly further training and even, sometimes, database upgrades.
Cloud software based solutions have now completely overturned this model of delivery.  For a start, the Application Software, and for that matter the Customer's data, is no longer located in-house – instead, it is located in the Customer's private virtual environment on the software provider's hosted internet based infrastructure.  Here, the Software Product is continuously being enhanced, bug fixed and upgraded, with each and every product development and/or upgrade continuously deployed to every single user in the background.   For example, AccountsIQ has minor upgrades and enhancements every two weeks or so, with major functionality upgrades occurring once a quarter (without any disruption whatsoever to our Customer's continuous flow of work).   A basic rule of the upgrade strategy is that it must, never, ever, interfere with the Customer's continuous on-going day-to-day operation of his system.  This means that the software evolves, quite often at a rapid rate. The path of evolution of the application also comes from feedback from users of the software who quite often request or point up new areas of added functionality, enhancement or improvement. This creates an on-going relationship between the Supplier and his Customers with constant two way interaction between the two communities.  In addition, support services are also On-Line and Cloud based – making support and assistance easier to access – whether through face to face conversations using Skype, et al, email, or designated fault reporting systems.
Our Customers pay a single low monthly fee (known as a "Software as a Service" – SaaS fee) to access the AccountsIQ Application suite and their data in their own segregated infrastructure.  Crucially, unlike most of our competitors who store all their Customer's data in one gigantic database, each Client of AccountsIQ has his own discrete and private database with little fear of cross-over or accidental access by other clients.  The quantum of monthly fee is mostly determined by the number of simultaneous users the Customer requires and there are no other limitations on the amount of computing power or storage required for the vast majority of clients.   There is an on-going programme of software enhancements and updates and these are also automatically provided within this single monthly charge.  And most importantly, the roll-out of such additional new functionality will never cause an interruption of service to the customer.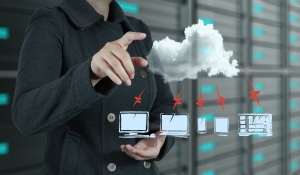 Deploying the AccountsIQ Cloud Computing and SaaS model in your business enables access at all times to the Applications from anywhere in the world, using any internet connected device (with appropriate security and permissions).  You can facilitate simultaneous collaboration with multiple users within your organisation through this centralised online service – which makes it a particularly attractive solution for companies or organisations which are geographically dispersed.  There is no need any more for in-house servers, private networks, etc. and you can eliminate costly labour associated with the operation and maintenance of such facilities.
To summarise the principal benefits of Cloud Computing;
Access anywhere 24-7 enabling flexible work practices: The datacentre facilitates access to the data/application from anywhere in the world with an internet connection at any time of day or night. This means you can typically access your software package from a tablet/phone or laptop wherever you may be. This is in contrast to traditional software that is installed on a single PC or work server which, in many cases, can only be accessed from your office.
Particularly suited to Multi-Location Businesses: The ability to access the software from anywhere by multiple users simultaneously means that multi location businesses can easily deploy the software across their entire business group without the need to install the software at each location or commission expensive private networks. The transactions arising in each business (POS, Orders, Invoices, Cash, etc.) are continuously updated to the central database in real-time.
Full Software and Hardware Maintenance included: The Datacentre will handle all the maintenance of the IT Infrastructure including upgrading servers and maintaining security patches. Meanwhile the Application Software provider will maintain the software and all upgrades of the software are included in the monthly fee. This means that there are no upgrade costs for new versions of software and your software version is always the latest version available.
Private Database for each AccountsIQ Client Company: This is truly a unique feature of AccountsIQ – whereby every single client of ours has their own individual discrete Database in which their data is stored.  This is in contrast to our competitors who store data for all clients on one single gigantic database and thereby co-mingle data.  Having your own database means there is an added layer of security (no possibility of cross-contamination of data), and an ability to easily scale the number of transactions being processed and with easier back-ups and restoration of data when required.  Furthermore, because each individual Database is much smaller than the aggregate, it means that performance is much better. In addition the AccountsIQ system is completely transaction based, requiring no "Batch" type updates.  The result is that the information presented to Users and Management, whether in Reports, Enquiries or Dashboards is completely up-to-the-minute, literally
Unlimited Storage and Computing Power: No matter how much data you are currently processing or storing for historical purposes, you need never worry about growing your Hardware configuration. It means you can scale and expand your usage of the database along with more users as your company grows – without the need to purchase new servers – whether for processing or storage.  Additionally you will never have to be concerned about the storage of historical data as this is automatic.
Safety Backups automatically provided: All back-ups are included as part of the service with a superior level of data back-up, storage and restoration than that which can be achieved by having your own IT department handle the process. Indeed, AccountsIQ can restore data to within 1 hour of the last session if required and we can have this done very quickly for you.  The result is significant cost savings in that you no longer have to have expensive in-house resources carrying out these functions.
Extensive Security & Protection: The datacentre handles the security protection with 24/7 monitoring of firewalls to ensure they are not being penetrated. Additionally security patches are updated constantly ensuring that the latest patches are installed to protect against new viruses and hackers.
Work Flow Approval processes: The nature of the Cloud, with multiple users being able to access the software from anywhere in the world, enables additional features to be introduced to increase business activity security such as centralised workflow approval. You can now add an extra layer of security to your day-to-day business activity by ensuring employees must get approval to allow them to access certain activities.
Document Management and paperless offices: In addition to storing the software and data in the Cloud, the AccountsIQ software service also has a document management sub-system that allows you to store any document you wish in PDF image format alongside the relevant transactions. These can be invoices, statements, scanned receipts, expense claims, etc. or customer/supplier contracts and information.  All outbound documents can be emailed to the appropriate party (or printed if you wish).  In addition you can also encourage suppliers to move to online emailing of inbound invoices, etc. which can be processed automatically by the system.
Ability to control individual User access and Permissions: The Cloud allows you to have numerous users access the system at any time. Each and every user will have their own 3 tier login individual to them.  Additionally, and uniquely to AccountsIQ, you can control which parts of functionality each and every user has access to, enabling them to have access only to what is relevant to their role and, indeed, their level of authority within that role.
Support & Help Desk included: All Support and Helpdesk facilities are included within the monthly SaaS fee. Support services are also Cloud based meaning they can be accessed 24/7 from anywhere in the world.
Automatic updates of Application Software: As mentioned previously, the application is under constant development and continuously upgraded, enhanced and free of charge apart from the monthly SaaS fee. There is only ever one version of the software and that is the one released to all clients.   The Customer never has to worry about old versions of software, upgrades and data migration.  You will be seamlessly and continuously using only the latest version of software at no additional cost.
Low fixed Monthly cost: The monthly SaaS fee spreads the cost of the software which means you don't have to incur the up-front expensive (and often quite large) capital costs of purchasing the software. You also will not have additional annual support costs, or upgrade costs. In addition you do not have to purchase IT infrastructure nor have the support costs associated with keeping this maintained and monitored.
No Archive & Off-site Storage anymore: Nearly all companies are now required to store accounts data (and other data) for a minimum period which can sometimes be for up to 10 years.  With these Cloud Computing services this is no longer an issue as the data is stored automatically for you.  For most users, the requirement to "archive" data is now irrelevant, since it can all be held on-line (given the huge storage capacity available).  So you don't have to reload such historical data anymore from off-line back-up devices, as was often the case with older local servers.
No disaster recovery requirements: Disaster recovery is increasingly critical in the modern world and with Cloud computing the datacentre handles this to a level that is unrivalled. You will have a superior level of protection that cannot be afforded by doing this in-house.
No version/licence issues or costs: There is only ever one version of the system – which is the most up to date version. This means you will never have to upgrade the software or be concerned that a new version of the software is released and you will have to spend time and money migrating data.
The foregoing advantages of the Cloud are generalised, but relevant to every single Customer. There are also further unique advantages of using the AccountsIQ that will be individual to Customers in different sectors.
To learn more about AccountsIQ, an award-winning Accounting software company, listen to our COO describe the future of cloud accounting or please get in touch. 
If you're interested in setting up a cloud accounting system, get in touch today.