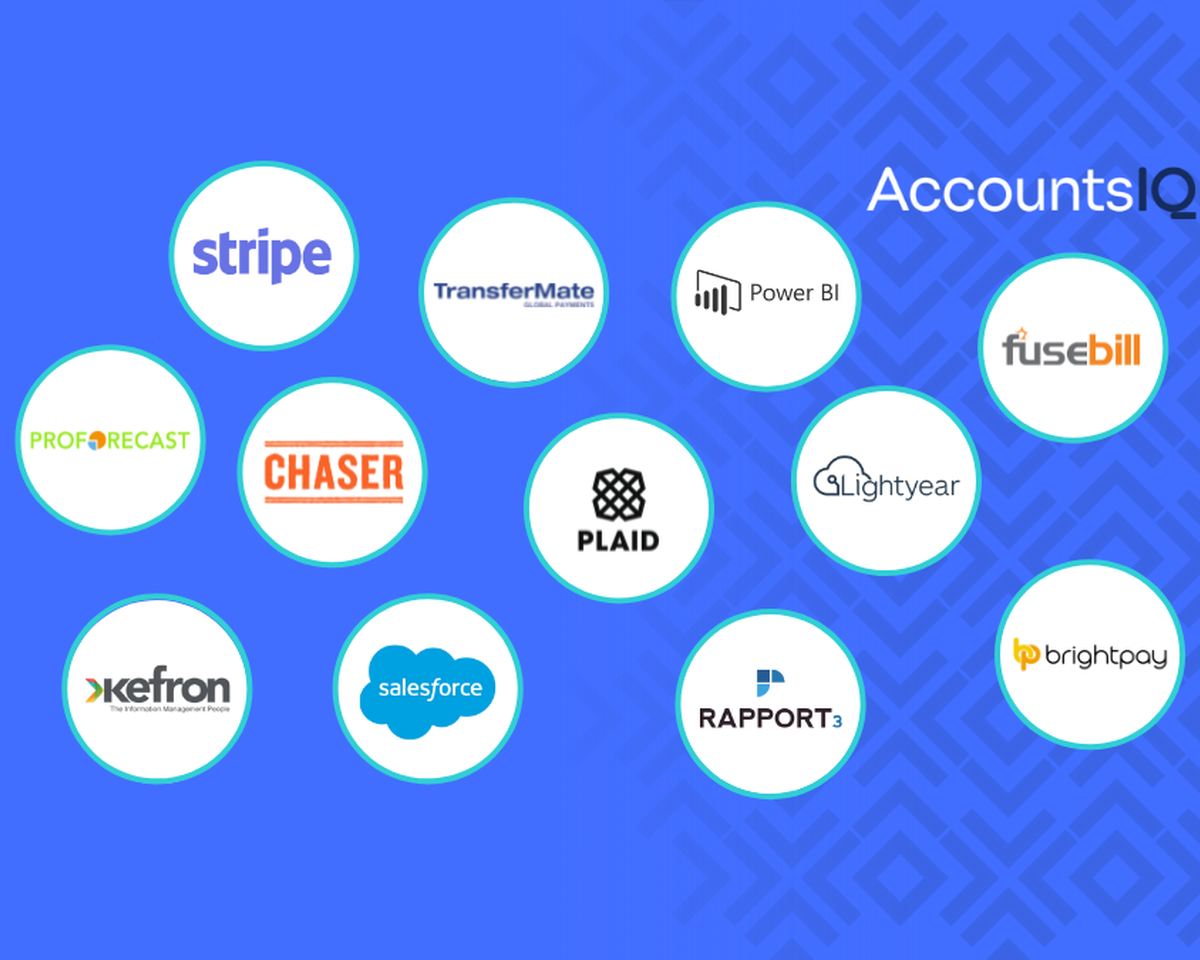 Cloud-based accounting software, such as AccountsIQ, enables your finance team to integrate easily with other FinTech apps across your business. That not only means you save time by streamlining processes; you also get smart real-time reporting and better business insights. With up-to-date operational data at your fingertips, you're better placed to make informed, timely business decisions rather than waiting for the month-end.
Connecting an eco-system of digital finance software systems brings significant business benefits, including:
Optimised business processes
Improved data availability
Reduction in cost and bottlenecks
More streamlined communications
Improved productivity.
Here's our round-up of 12 finance apps to make your life easier
As your business expands into new markets and geographies, and your needs become more complex, juggling everything in multiple, dis-connected systems and spreadsheets simply isn't sustainable. That's why we've partnered with some of the most innovative finance software and FinTech apps in the market that are designed to make your life easier. All these digital finance Cloud-based apps integrate seamlessly with AccountsIQ.
With this in mind, we have put together a guide of 12 favourite fintech software for businesses large and small: 
1. Salesforce
A powerful Customer Relationship Management (CRM) system used by small to enterprise-sized businesses to manage the sales funnel, from prospects through to sales, and all their customer interactions. Many of our Not-for-Profit customers, for example, use Salesforce to manage their donor relationships.  See how Salesforce links sales to finance for better account management.
Find out more about the AccountsIQ/Salesforce Integration.
2. TransferMate Global Payments
This leading global end-to-end B2B-payments technology solution sends and receives secure, multi-currency, international payments fast and efficiently, in almost every currency.  
Find out more about the AccountsIQ/Transfermate Integration.
3. Chaser
This software enables users to automate invoice chasing and streamline their accounts receivable process; meaning you get paid faster, saving time and improving cash flow.
Find out more about the AccountsIQ/Chaser Integration.
4. BrightPay
BrightPay's payroll and automatic enrolment software helps users to run an efficient and accurate payroll and minimises payroll administration helping users pay employees and automate tax calculations.
Find out more about our BrightPay integration.
5. Stripe
This payments software enables businesses to accept online payments, send pay-outs and manage their business online –and it's available to use in over 100 countries.
Find out more about the AccountsIQ/Stripe Integration.
6. Rapport3
This Cloud-based project management system is designed for architects, engineers and project managers and includes time management, job costing, email management, CRM software and project tracking. It provides all the project management tools to help plan and manage projects.
7. Kefron
An AP automation solution which digitises invoices for ease of processing, approval and record keeping. This helps your business to save money by eliminating manual invoice processing, freeing up your team for more valuable tasks, whilst ensuring you remain GDPR compliant. 
Find out more about the AccountsIQ/Kefron Integration.
8. Fusebill
A software platform that makes subscription billing management easier by automating manual accounting and financial processes. This software streamlines your billing workflow, saving you time and improving agility.
Find out more about the AccountsIQ/Fusebill Integration.
9. Plaid
This world-leading open banking platform gives you the speed and convenience of automated bank reconciliations, combined with the reassurance of secure, encrypted connections. Plaid open banking technology supports around 11,500 banks and financial institutions across the UK, Europe and USA.
Find out more about the Plaid integration.
10. Microsoft Power BI
This highly regarded reporting technology enables users to customise reports and present them in visual, personalised formats. Any data that sits in AccountsIQ can be analysed, reported upon and displayed in Power BI. You can also adapt layouts to your own reporting needs and graphically represent any analysis you want to do in AccountsIQ, in real time, in Power BI.
Find out more about Financial Reporting in AccountsIQ and our connector to Microsoft Power BI.  
11. Lightyear
Lightyear automates mundane tasks and streamlines the traditional AP process. This can make processing supplier bills up to 80% faster. It gives you automated line-by-line data extraction, customisable approvals workflow, and messaging, note-taking, audit trail tracking and communication tools to improve collaboration and compliance.
Find out more about the AccountsIQ/Lightyear Integration.
12. ProForecast
With this scenario planning tool you can bring in data from AccountsIQ, set your budgets/targets, then refresh this data with actuals as often as you want. Customisable dashboard charts and reports make it easy to see under/over performance. It's also a great way to analyse "what if" scenarios when you're looking at the impact of business changes, such as expansion, price increases, cost increases, or new products, services and markets.
Find out more about the AccountsIQ/ProForecast Integration.
Find out more about how to build your digital finance eco-system
Find out more about our accounting software integration partners and how they connect and automatically populate your AccountsIQ system and integrate with your financial reporting.
Explore this topic in more detail in our System Integration in the Cloud Report, created in conjunction with AccountingWeb.