Technology keeps advancing, your company keeps growing and the business environment is more volatile than ever. The pressure is on to keep pace. That's why finance teams are so keen on accounting software integrations.
Integrated accounting software packages enable you to:
Connect data from multiple systems
Automatically populate your finance system
Integrate with your financial reporting.
After all, no piece of information exists in isolation. Accounting software integrations give you a seamless flow of information from one system to another. This real-time data sharing across the business is one of the best ways to stay competitive.
3 benefits of integrated accounting software packages
1. Boost Productivity
No more duplicated data entries
No need to switch between different apps
Fewer errors
Quicker, simpler processing
2. Better, quicker decision making
Everyone's working from 'a single version of the truth'
Data is more reliable
Enhanced analysis (data is more meaningful and powerful when it's pulled together)
See trends and draw conclusions more quickly
3. Happier customers, employees and stakeholders
Integrate with your CRM to support customers more effectively
Streamline your end-to-end sales and fulfilment processes
Reduce repetitive, manual processes
Support decision-makers with relevant, reliable data.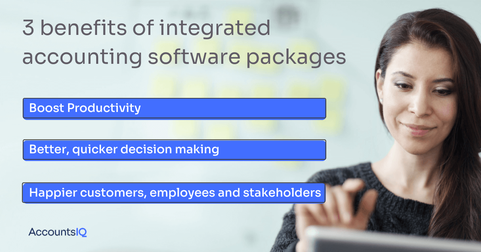 Before the Cloud, accounting software integrations were tricky and costly. But AccountsIQ's integrated accounting software makes it straightforward to connect your business systems. This will help you save time, improve processes and create smart real time managements reports.
What systems should I consider integrating with my accounting software?
AccountsIQ has an open API strategy that makes integration with other apps easy. For example, many of our customers benefit from automated bank reconciliations through our partnership with open banking platform, Plaid. Other frequently requested integrations are AP, expense management and OCR technology, such as Kefron, AutoEntry and LightYear and our accounting software also integrates with Salesforce.
"The accounting software integrations are one of the things I love about AccountsIQ."
Humentum is a leading global non-profit, working with humanitarian and development organisations. They have multiple income and funding streams and needed a finance system that would integrate seamlessly with their other software. They've now integrated AccountsIQ with:
"It's much better than manually sending invoices around the company. In fact, the ability to do all these integrations is one of the things I love about AccountsIQ."
Jocelyn Boughton, Humentum's Global Director, Finance & Administration
AccountsIQ will help you make the most of your accounting software integrations
We offer a full accounting software integrations service that includes customised integrations. If you don't see the system you want to integrate on our Accounting Software Integration Partners page, just talk to us. For example, rapidly expanding restaurant group, Camile Thai, worked with our Integrations team so they could integrate AccountsIQ with MarketMan (a restaurant inventory management system) to give them granular business intelligence information.
Read our Camile Thai case study.
At AccountsIQ, we don't see software integrations as a 'plug and play' service. We customise the integration to meet your individual needs. And our team of accounting software integration experts are always on hand to help.
Pete McKeown, Systems Integration Consultant at AccountsIQ explains:
"We talk to customers to understand their pain points and spec out what they want. That means we can design and configure the integration for customers' specific processes and workflows. We strive to make it do exactly what they want it to do.
"For example, recently a customer said they wanted to invoice from Salesforce. Their data wasn't structured in the optimum way to do this, so we helped them to design a bespoke invoice solution in Salesforce. We also provide a cost/benefit analysis so they can make the business case internally for an integration that will improve their productivity.
"I've been implementing finance software for 25 years, and I'm always happy to sit down with customers to work out what's important for them and suggest ways they can manage it all."
Pete and his team will often co-ordinate with our Onboarding team to ensure customers have business critical integrations up and running from day 1. However, they also work with customers on an on-going basis. Customers often come back to us post go-live because they want to integrate another system with their AccountsIQ platform.
"The integration and the API are what we've been really happy with. We have developers in house who roll their eyes when you talk about the other larger accounting software vendors because they are so cumbersome. Our team found it really easy working with AccountsIQ to get it all up and running. That's what really sold us."
Helen MacDonald, Finance Manager at Cyber Security experts, PortSwigger.
Read our PortSwigger case study.
The business world never stands still. As your company grows and your needs become more complex, you'll probably want to introduce new systems to your tech stack. Our Integrations team will always be on hand to consult and advise on integrating new software, processes and workflows into AccountsIQ.
Find out more about our accounting software integrations
Request a callback or call us on (0)203 598 7350 to speak to one of our finance system integration experts and to arrange a free consultation.
Download our Guide to System Integration in the Cloud.