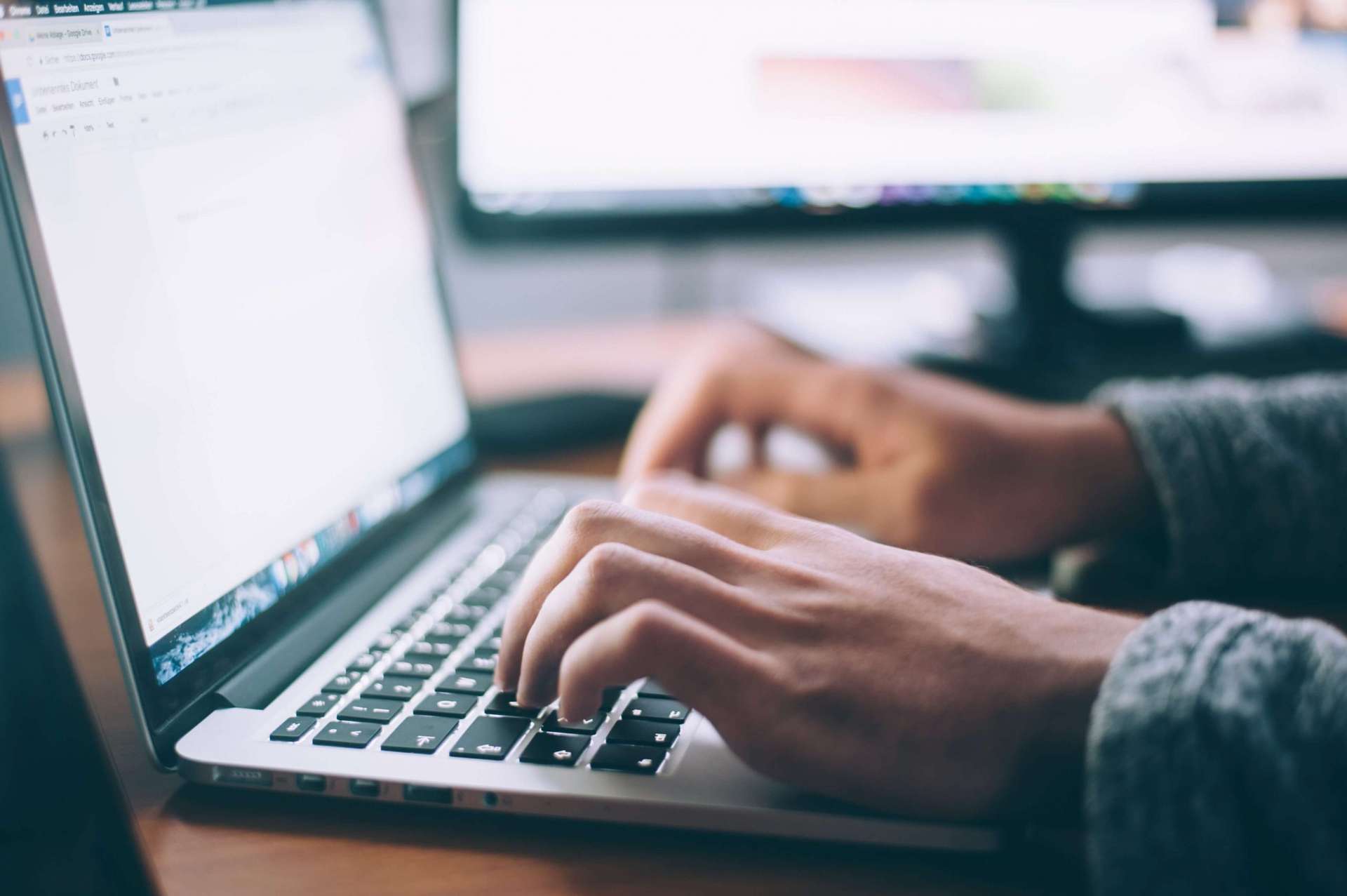 Implementing a new accounting system is no small task but with the proper planning, leadership, and implementation schedule, you can ensure a smooth transition from your old system, while also setting yourself up for future digital wins. A new accounting system can ultimately lead to greater efficiency in your finance function and a better accounting process overall. We've been doing this for over 10 years and know how – and how not – to make the switch. Here are our insights from our experience with hundreds of clients in the right way to go about a new accounting system implementation.
Take your time to plan your new accounting system implementation 
It's often said that any successful project is 80% planning and 20% doing. This is as true for a new accounting system as it is for any business process. It's best to dedicate plenty of time to you system requirement. Here's a few ways to focus your planning and set yourself up for success:
Identify your "Project Lead". Ensuring you have enough internal resources to cover the implementation. This should ideally be someone who knows the business well and is acutely aware of its processes and existing systems. This person should also have sufficient authority to direct the rest of the team and get the internal staff on board with the change.
Do your pre-sale research & due diligence. Make sure that you understand your technical requirements and can validate that these will be fulfilled with the product you're moving to.
Identify key stakeholders and gain their buy-in and involvement early on. This includes process owners in different departments. Communication is key so make sure your planning involves not just the finance team but purchasing and sales, as well. This is where your project lead and pre-sales come together to get the rest of the business on board and focused.
Engage with the consultant who's going to help you onboard. Whether we are handling the implementation directly or the project is being managed by our trusted implementation partners, our consultants will agree the Chart of Accounts, BI codes, user profiles, and consolidation requirements during the design process so it's clear what needs to happen when we move on to the build. (See the typical finance system implementation project plan below.)
6 things to prepare before you begin the new accounting system implementation process
Getting ahead of comprehensive documents before the accounting system implementation begins will save you time and energy – ensuring a punctual and well-budgeted implementation.
Gathering information and checking it's accurate will ensure you're ready to enjoy your new system immediately. Some important things to prepare include:
Chart of Accounts structure 

Subsidiary structure 

Tax and regulatory requirements 

User information and roles 

Data clean-up 

Data migration.
Tips for a successful implementation
At Accounts IQ, we offer post-implementation support to ensure that your new accounting system is up to scratch. We are available should you have any questions about the software and can also run training sessions to ensure your team is up to speed. We can also help you to benefit from various integrations with your new accounting system such as payroll and HR. After all, we want you to get the most out of your software and are always on hand to help.
Start with your reporting requirements
This is a great opportunity to review your chart of accounts and reporting needs. We find that the best way to approach this is to start with your outputs and bring it back to what your new chart of accounts and BI structure need to look like. It's a great opportunity to ensure your data represents you business and reporting requirements. AccountsIQ's extensive BI Structure can accommodate up to six dimensional levels, but that doesn't mean you need to use them all right away. In fact, this is where delays often come in. Start with 2-3 dimensions to get you going (e.g. departmental or location structure) and see what AccountsIQ is capable of. Then think about adding other dimensions in future phases 3-6 months down the line. (More on this below.)
Choose your timing
Choose a time that suits your business and internal resources. Some convenient timings that we can recommend…
Year end – not essential but often a preferred cut off for audit reasons.
End of VAT period – once again not essential with AIQ but less data to migrate.
Any time of the year that's less busy – this is key to ensure resources are available to drive the project forward.
Import what you need and remove the need for running parallel systems
There's no value in bringing across past transactional data. We suggest you start with an opening trial balance and bring in monthly movements for reporting purposes. This way you can still achieve comparative BI reporting while avoiding the need to run parallel systems. We have upload templates in place to make it straightforward to import the essential data needed for comparative reporting.
Give your project lead time and scope to do this well
Whatever the size of your business, the project will require a decision maker. Make sure your project lead and key stakeholders have the time and scope to focus on the tasks at each stage. Implementing a new accounting system takes time, whatever the size of the business, and it will take longer if your project lead tries to do this as well as a full-time job. Give your people the opportunity to focus on the tasks at each stage of the process.
Implement in phases and celebrate successes
For many of our customers, a new accounting system is part of a bigger programme of change and AccountsIQ has a substantial range of modules and integrations to support these changes. But don't jump into everything at once; think about the sequencing. Follow the principles of good change management: implement in manageable phases, review what did and didn't work well, celebrate successes, then move on to the next phase. The implementation will be much smoother and more enjoyable if you nail your core requirements first, get to know the system, and enjoy the sense of achievement that comes from clarity around your data and how the system works. You can then prioritise future changes based on business benefits and move onto the next phase with ease.

You can see how a phased implementation can work in our Hampshire Cultural Trust case study where we set out the core financials in phase 1, then added ticketing, EPOS, and payroll in phase 2.
We've got a fantastic product and the implementation team has been very good, particularly with our management accounting project. My mantra is 'making finance valued and valuable'. With AccountsIQ, and a great team at HCT, we are making that happen"
Charlie Inigo-Jones, Director of Finance, HCT
Don't build your new system around old processes
A new accounting system is a great opportunity to review your processes and adapt them to the new system. The automations, integrations and business intelligence afforded by AccountsIQ removes the need for the manual processes that plague legacy systems. Your accounting software can play a part in a broader finance digital transformation that will set you up to realise the huge benefits of Cloud accounting.
We realised we had come to develop our processes around the limitations of the Exchequer system rather than using the system to improve processes".
Group Financial Controller, Kefron
Finance system implementation project plan
Below is an example of what a typical finance system implementation project plan looks like and how we work with our clients every step of the way. Each stage is dependent on successful completion of the previous stage. That's why design and planning is so important. You'll also see that we don't focus on digital wins until completion of this first phase. Again, getting the core financials in place, staff trained, and the system embedded in your finance team are important steps before moving on to new features.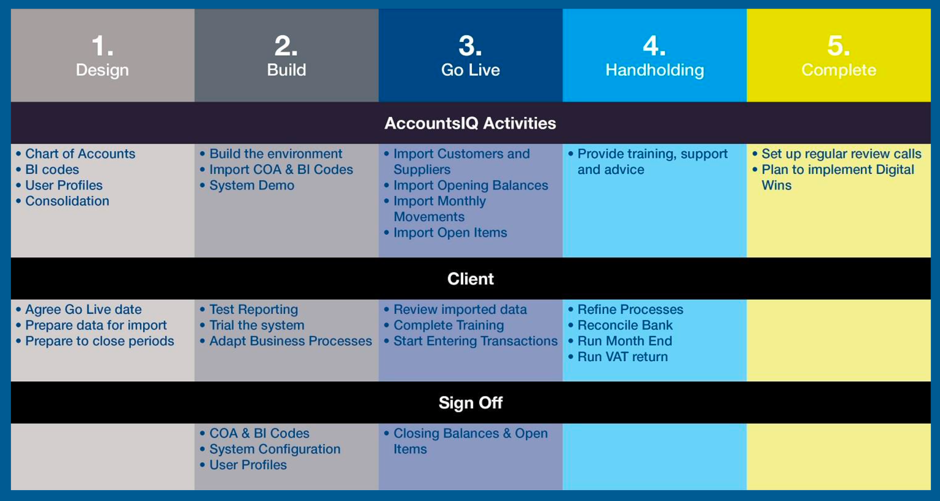 We can typically get the core financials up and running within four weeks, and sometimes faster with the proper planning. For example, charity Artichoke Trust made the switch from Sage Financials to AccountsIQ in just two days even with their unique project accounting requirements.
The elements that have really made a difference are AccountsIQ's innovative implementation of analysis codes, the attaching invoices, and the bank reconciliation module. These are things I didn't have before, and they work beautifully. These features have made the biggest difference to the way I work, giving me all the information I need." Neil Goulder, Finance Director, Artichoke Trust
Common issues with implementing a new accounting system 
Lack of clarity. This is why planning is so important. If you don't know what it is you're trying to achieve, then there's no sense of what defines success. Be clear about your goals.
Lack of authority. Make sure your project lead has the knowledge to own the project and the space and time to actually lead.
Scope creep. Don't take on too much too soon. Avoid unrealistic expectations about what you can achieve in the first iteration. Start with something achievable, celebrate your wins, and then add new features in phases.
Distractions. You have a business to run. Don't underestimate how other company activities can interfere with your implementation. Plan the implementation at a time when you can really focus on it.
Time. In line with the above, make sure you've allowed enough time to finish the implementation completely and accurately. Also allow sufficient time for staff training so that users can enjoy the full benefits of the system.
A new accounting system implementation can seem daunting, but with the proper planning it's very doable. We have the experience, knowledge and support to help you every step of the way.
Learn More
For more details, read our white paper: Digital Transformation Part 2: Scoping your implementation project & planning for success.
Or alternatively hear our Head of Onboarding, Sinead Brennan walk through Implementing a New Finance System in our webinar.