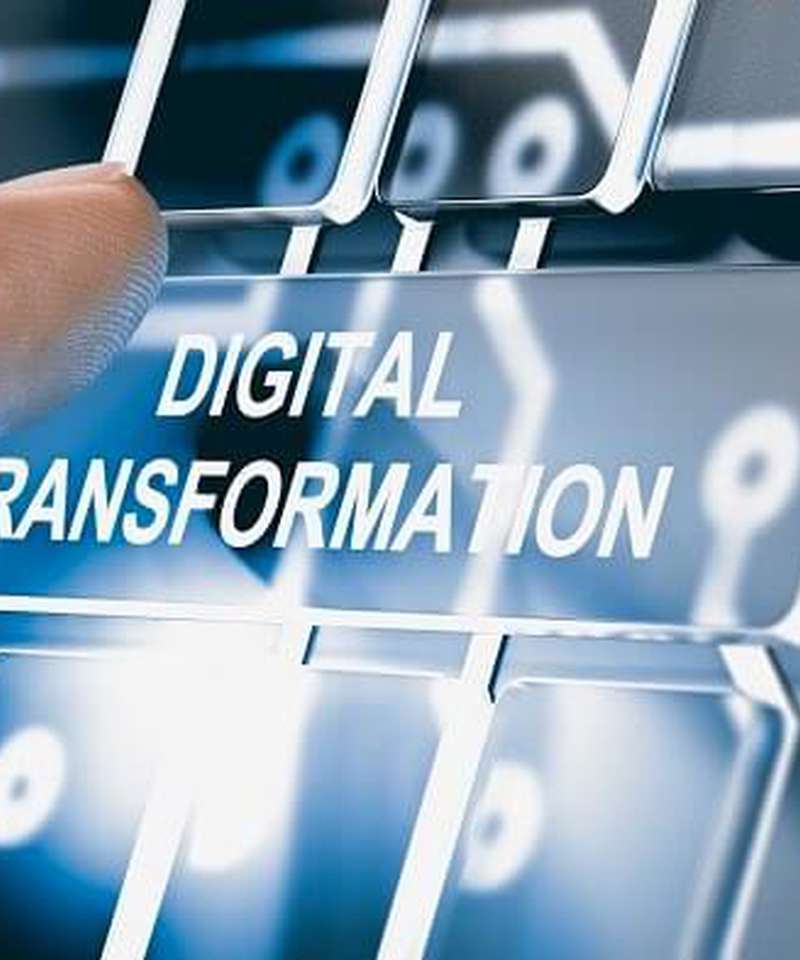 With global leaders like Bill Gates believing we are only a third of the way through this crisis, the playbook for the next 6 -12 months remains uncertain.  CFO's, Financial Controllers and Accountants need to quickly embrace finance digital transformation in their business which will be key to building the foundations of a survive-and-thrive strategy.
Our ability to stay connected and informed is in the palm of our hands through smartphones.  The same needs to happen for your accounting system.  It needs to be always on, up-to-date and sharing information with the right people in the business in real time.
My advice is to keep things simple.  You can be up and running with almost any small and mid-range cloud system in a matter of days or weeks.  But choose carefully so it can scale as your business evolves and grows.  Your cloud accounting system should be accessible from anywhere through a browser, be fully hosted and backed-up with regular product upgrades based on user feedback.
The diagram below depicts your Accounting System re-framed as Cloud Finance Management Software [FMS] with an API at its core so you can connect to HMRC, Banking, Mobile Apps, Reporting tools, and other apps and systems that emerge in the future API economy.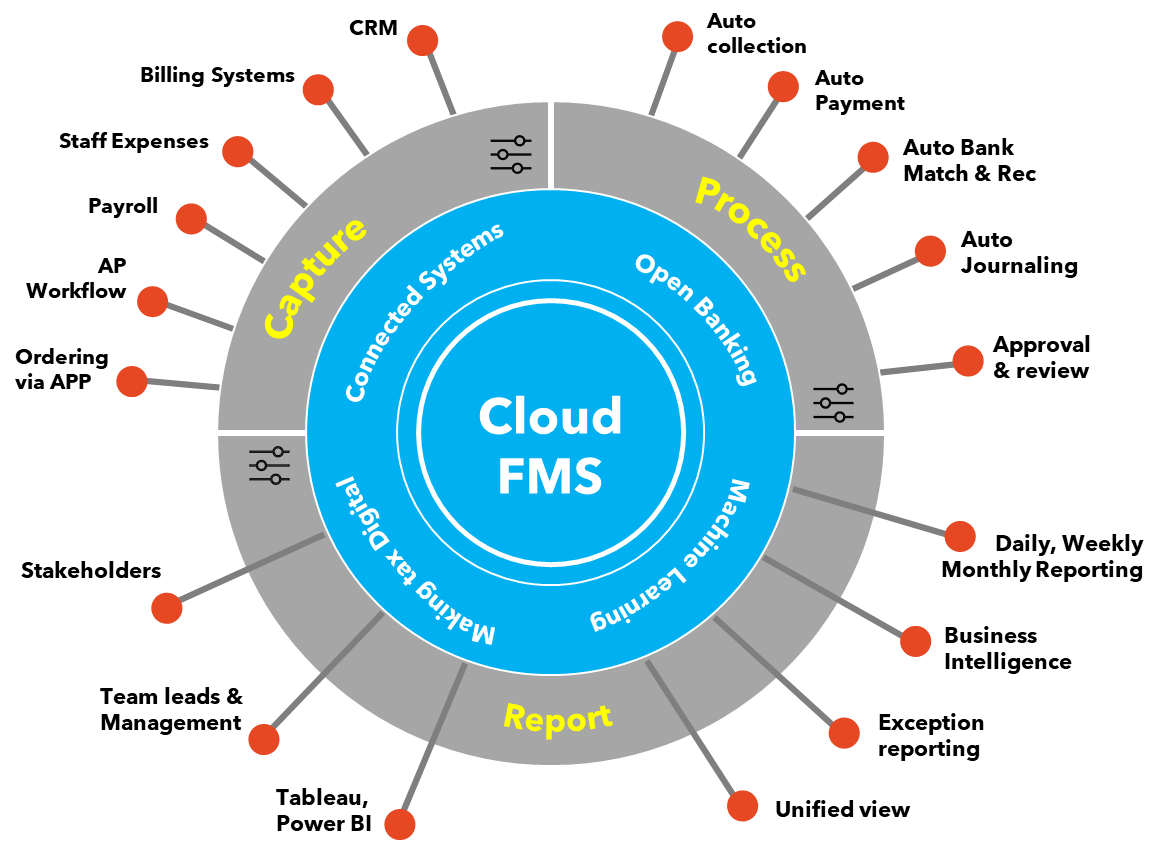 Finance digital transformation post Covid-19
How to future-proof your finance function:
Absolutely Go Cloud – get a true cloud accounting system that is right for your business as early as you can. Not one that is too basic or dials into a hosted solution or across a VPN. It's that simple and you can be up and running in less than a week if you want to. This will be the most important decision the finance team makes in the next 6 to 12 months, so don't delay.
API Economy – get familiar with what API's are and how they can help your business on day one and as it grows. An API is an Application Programming Interface that allows two systems to connect securely and exchange information.  Examples that affect all businesses today are Making Tax Digital and Open Banking.  Both use standard APIs that allow your accounting system to communicate VAT and Bank transactions with a relevant 3rd
Automate Capture – Focus the team on automation [i.e. getting data into and out of the system with minimal keystrokes and rework]. This can be done with simple workflow routing using a central email to attach a supplier invoice + OCR connectors if you wish to extract data. Other examples are payroll connectors, Point of Sale, CRM, Power BI and many other 3rd party systems.
Connect your Banks – connect your bank accounts so that transactions can be matched and reconciled every day to give a true working capital position to management daily, weekly and monthly. Also, ensure you can pay suppliers using a payment function that automates the allocation of payments and a direct debit system to collect money from customers.
Adopt Productivity Features – digital wins are small projects that are easy to test and bank small successes for the team. Some examples: implementing purchase ordering, approval workflow, expense capture and a fixed asset register.  All will save you time every month, so the investment payback is really significant.  It also gives Finance teams social currency as influencers and advocates of change across the business.
Real-time Reporting – Make sure you have the ability to report all the financial and business intelligence information to the management team and other team leads that need data to be effective. This means being able to report a view across a group, by company, by sector, area, department, project etc.  All these reports should be visible from your Cloud FMS in real time and not exported and re-worked in Excel by one of the team.  There is no need to do that anymore and you can also use external reporting tools like Power BI that use API connections to stay in real-time contact with your Cloud FMS.
To finish, a few recurring insights from great articles and blogs on what Finance teams and businesses should be doing right now and probably from now on….
People – Really look after your employees and your customers. These are the most important people to your business and the ones that will help it thrive as we come out of this crisis;
Data – Carry out scenario planning using good data across all aspects of the business so you have prepared actions as and when new information emerges;
Communication – Report key metrics daily and weekly and talk to all stakeholders in the business as often as required;
Technology – look at where you can add and replace technology so you can emerge fitter than before the crisis;
Divest – Get rid of cost that you believe is neither necessary, nor will not add value in the future;
Invest – Play offensive in your thinking. Digitise all you can in your business model.  The technology is there.
Author: Darren Cran, COO, AccountsIQ.
Listen to Darren in a Webinar recording on the topic of How to Digitally Transform the Finance Function.
Related reading
Tindle Newspaper Group switched to AccountsIQ's cloud accounting platform from Sage 50 and have radically improved their business information in the process and saved themselves a great deal of money:
"With AccountsIQ our controls are better, the information is far richer, the system is more robust and reporting is timely. By reconfiguring our operation and moving platform, we will likely save between three and four hundred thousand pounds per year." Alastair Manson, Group FD, Tindle Newspaper Group. Read the Case Study.
You might find interesting our recent whitepapers on Demystifying Finance Automation and our Digital Transformation series.  See how AccountsIQ makes a vast difference to thousands of companies with our cloud accounting software features. If you're looking for alternatives to Sage  or a more sophisticated Xero alternative, try AccountsIQ.
Keep up-to-date with AccountsIQ and sign up to our Newsletter or join one of our Webinars.
More from this author:
Automating consolidation with financial consolidation software.