Published by Jeni Peacock on 7th October 2022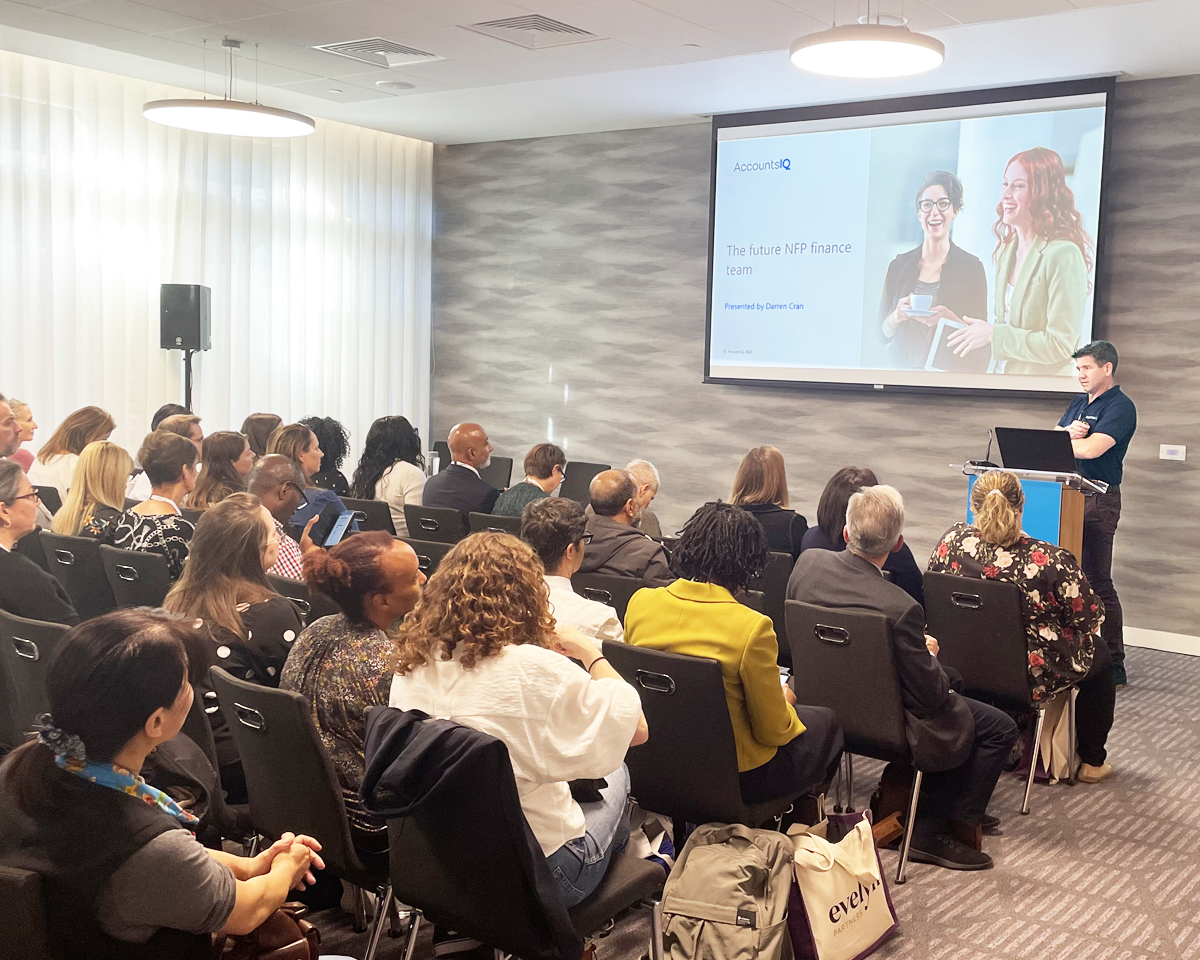 COO, Darren Cran speaking at the Charity Finance Summit in London
From pyramids to real-world digital wins and the exciting future of embedded banking. Check out the key takeaways from our COO Darren Cran's Charity Finance Summit presentation about the Future of Finance.
We were delighted to sponsor the Charity Finance Summit in London on 6 October. Mainly because we got to see so many of our charity and not-for-profit customers in-person; some for the first time in three years! It was also a hugely informative and entertaining learning event.
If you were able to attend, we hope you enjoyed it as much as we did. If you couldn't make the event, this blog summarises the key highlights from our COO, Darren Cran's presentation on the Future of NFP Finance.
Our vision for the future of NFP finance
AccountsIQ's vision is to help build finance teams that are based on:  
Efficiency: minimising the time spent on manual tasks
Collaboration: involving internal and external stakeholders in finance processes  
Insights: using finance data to drive better business decisions.
How do we do this?
That's where the 'inverting the pyramid' concept comes in. This slide from Darren's talk explains it succinctly.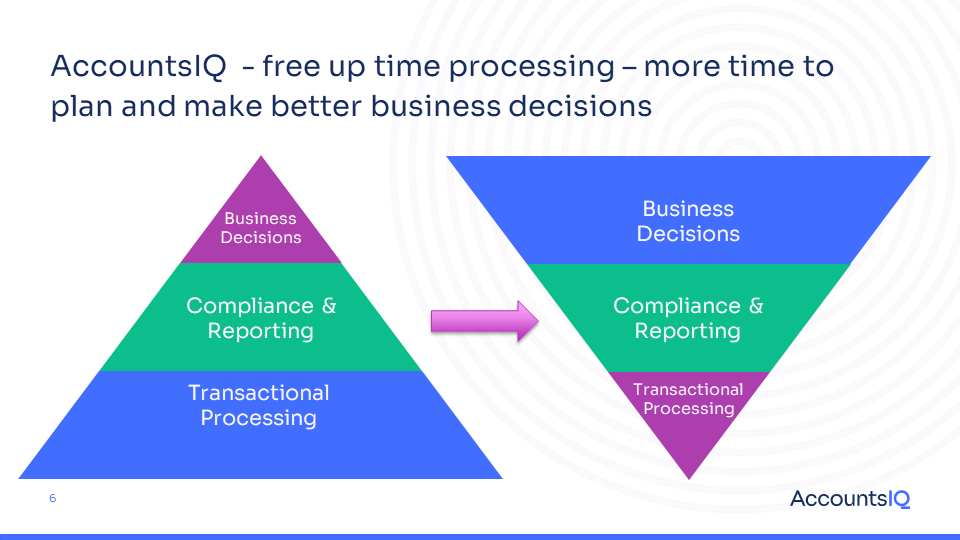 Currently, a typical finance function tends to look like the pyramid on the left. Most of your time and resources are spent on manual processing tasks, leaving little time for providing the insights needed to make intelligent, evidence-based business decisions.   
Compare that with the inverted pyramid on the right. Here, technology has automated much of the manual processing; leaving more time for your team to collaborate with the wider organisation and ensure everyone has the business intelligence and insights they need to make informed, timely decisions. As Darren explained:
"This is our vision. To help finance teams work smarter and build sustainable growth off the same resource base."
What does the future of NFP finance look like in the real world?
Turning theory into practice, Darren moved on to highlighting several of our NFP customer success stories. For example, the Diocese of Arundel and Brighton successfully completed a digital transformation journey with AccountsIQ. They moved from multiple desktop systems and lots of manual, time consuming transaction processing and consolidation (just like the old pyramid in the diagram) to a single Cloud platform. This has been transformational for them; it's enabled many digital wins and ensures they have detailed, useful insights at the click of a button.
You can read the full case study here.
The nightmare of trying to work from home with their old on-premise system is what prompted the Welsh Council for Voluntary Associations (WCVA) to move to AccountsIQ, but now they're finding lots of other benefits. "Becoming Cloud-enabled is essential for NFPs," says Darren. "It's probably the most important strategic decision a finance team needs to make. But, once you've taken that first step, you'll have a system that can scale with you over time. You'll be on the right platform to sustain your growth over many years, and you'll be ready for the new world of work."
Read the Welsh Council for Voluntary Action Case Study
Rather than opting for the expense and complexity of a full ERP, Humentum chose AccountsIQ because it's 'no more complicated than it needs to be' according to their Finance Director, Jocelyn Boughton. It still meets their key objective of eliminating as much manual accounting work as possible. The open API structure also enabled them to build a future-proofed finance function that's fully integrated with their other business systems.
Read the Humentum Case Study
Planning your digital transformation journey
Darren was keen to emphasise that a successful digital finance transformation project is about much more than simply choosing a new system. That's the first step. But people, processes and mindset are what really determine the long-term success of the project.
This slide sums up the collaborative approach AccountsIQ takes to ensuring our customers meet their objectives with as little disruption to the organisation as possible.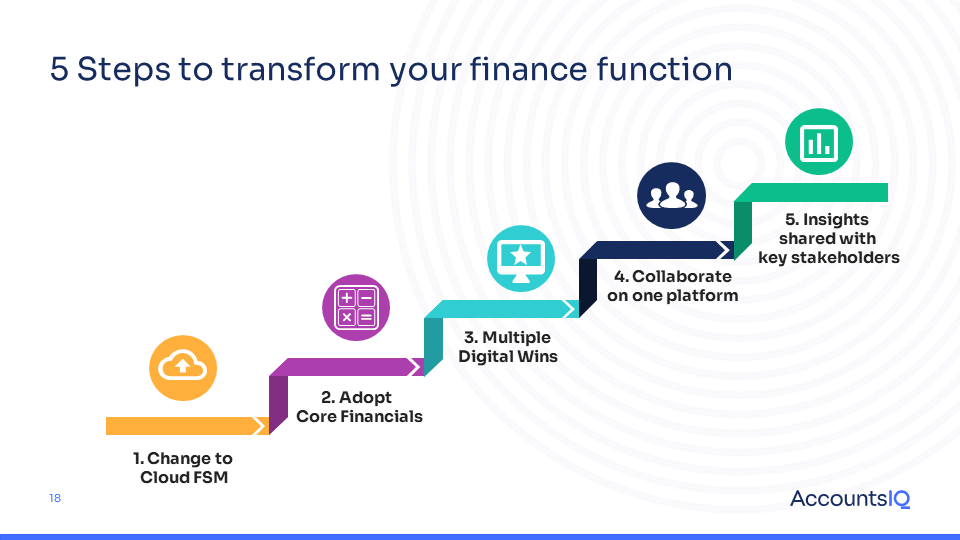 Exciting future developments
To round off his talk, Darren was happy to give a glimpse of some of the innovations that lie ahead for NFP finance teams. This will involve everything from complementing essential financial reporting with real-time, trend-based insight dashboards, to enhanced functionality in mobile apps. He also described how embedded banking will be a gamechanger for finance teams.
Embedded banking will enable finance teams to manage a broad range of banking services, such as payment wallets, supplier payments and inter-company transfers, from within one finance system. There'll be no more re-keying or manual bank reconciliations and all the essential security and approvals policies will be guaranteed. We believe this is the future of tech innovation for finance teams. It's the next step in bringing in automated postings and, potentially, robotics and AI elements; we're really excited about it.  
As Darren concluded:
"One of the major benefits of being on a true Cloud finance system for NFPs is that the product provider will always be updating the product. At AccountsIQ, we're always looking at new opportunities to make life easier for our users. It's a constant evolution that you simply don't get from older, on-premise systems."
See AccountsIQ in action, join us at our next live demo webinar on 13 October
You can register here: Demo Webinar for Growing Companies Webinar | AccountsIQ
Find out more about our Charity Accounting Software.