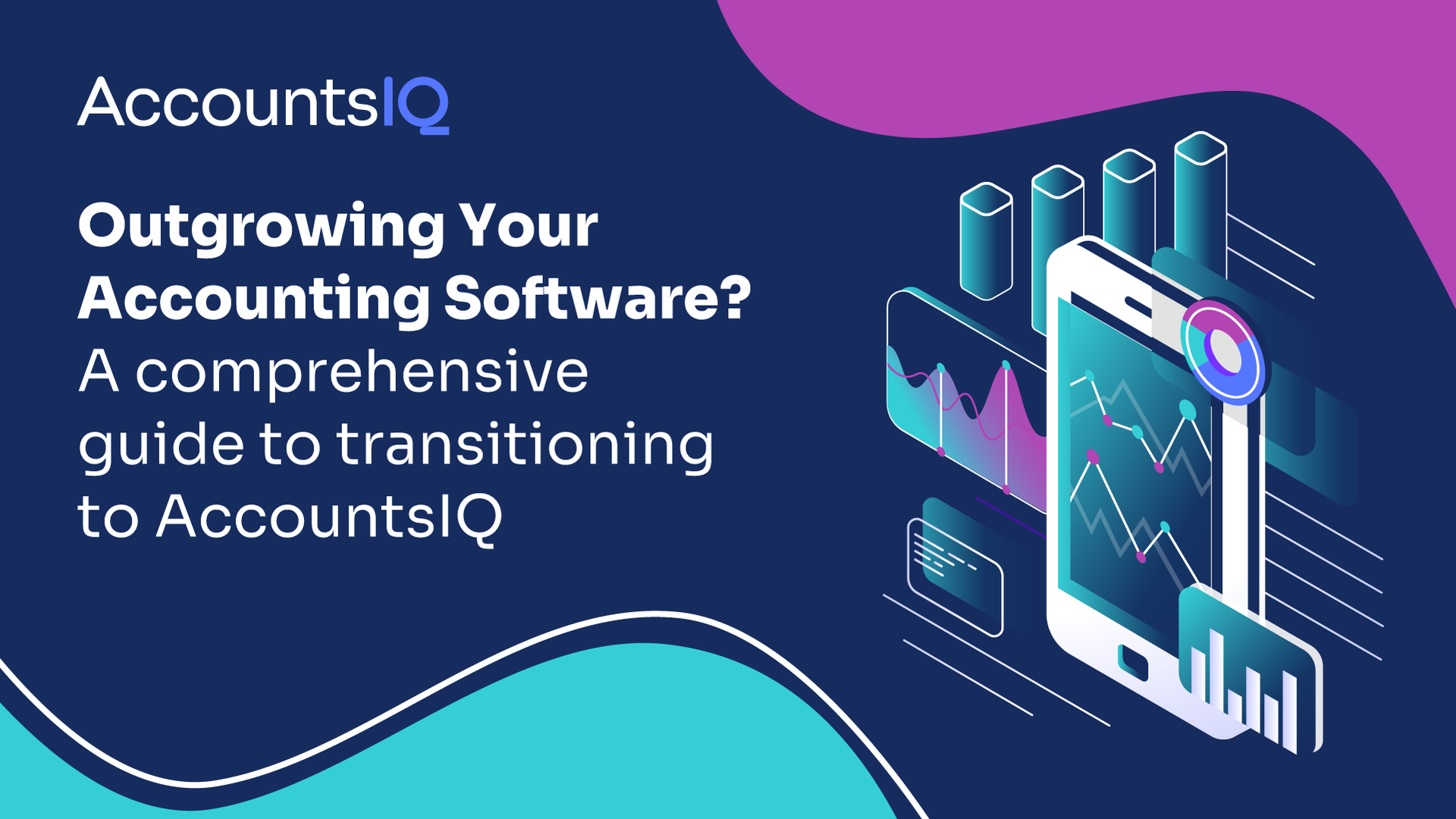 We understand that as your company grows, so do your accounting needs. If you've been using outdated accounting practices and find yourself struggling to obtain the reports and analysis required for informed decision-making or require more advanced features like robust foreign currency handling, it may be time to consider migrating to a more advanced accounting software solution. 
In this month's blog post, let's take a look at key indicators for your business that suggest it's time to update how it approaches finance management. We also share how to transition to a more sophisticated financial services accounting software like AccountsIQ. This transition can open up opportunities for better financial management, improved cost savings, and enhanced efficiency. 
When Is It Time to Update Your Accounting Software?
Lack of Advanced Reporting
Are you frustrated with your current accounting software's limitations in generating detailed financial reports and analysis? If so, you're not alone. Many businesses face this challenge, and it can have significant consequences, such as hindering timely, data-driven decision-making.
Without advanced reporting capabilities, you may find yourself struggling to extract meaningful insights from your financial data. This limitation can impede your ability to make informed decisions, spot trends, and identify opportunities for improvement.
Complex Accounting Needs
If your business operates in a multi-company or franchise model, you need an accounting software solution that can handle the complexities of group accounting and consolidation effortlessly. AccountsIQ specialises in multi-company accounting software, streamlining your financial operations.
Foreign Currency Handling
For companies engaged with international transactions, efficient management of foreign currencies is essential. With AccountsIQ, you can easily handle foreign currencies thanks to its advanced tools, simplifying currency conversion and reporting. Additionally, TransferMate offers a beneficial add-on to enhance your foreign currency capabilities, providing even more flexibility and control.
Scalability
As your business expands, your accounting software should be able to scale with you. AccountsIQ is designed to grow alongside your organisation, ensuring that you have the tools needed to support your evolving financial requirements.
Making the Transition to AccountsIQ
Assessment and Planning
If you found yourself nodding to the above, then it's time to assess your current accounting needs and identify the specific pain points you're facing with your outdated accounting practices. Create a migration plan that outlines your goals, timelines, and key milestones.
A Detailed Migration Roadmap
To ensure that you receive the best possible support during this critical phase, we have a dedicated onboarding team ready to assist you. They will work closely with you to assess your existing data, determine what can be migrated effectively, and provide guidance on any necessary data transformation.
Integration
AccountsIQ seamlessly integrates with other business applications, providing a comprehensive financial management solution. Explore integration options to enhance your workflow.
Ongoing Support
AccountsIQ offers ongoing support and updates to ensure your software remains current and aligned with your evolving needs.
Cost Savings with AccountsIQ
Upgrading to AccountsIQ not only addresses your immediate accounting challenges but can also lead to significant cost savings in the long run. With improved efficiency, advanced reporting, and streamlined financial processes, you can reduce operational costs and make more informed financial decisions.
Outgrowing traditional accounting practices is a natural progression for businesses that are evolving and expanding. AccountsIQ, as a leading financial management software provider, offers a comprehensive solution for businesses with complex accounting needs. By migrating to AccountsIQ, you can gain access to advanced multi-company accounting capabilities, all while achieving significant cost savings. Stay ahead of the game with advanced accounting software designed by AccountsIQ, and take your financial management to the next level.
Client Success Stories: Making the Transition From Sage 50 to AccountsIQ
In this testimonial, you'll hear from Salamanca Group who chose AccountsIQ over other alternatives, for their consolidation and reporting needs. Their experience with AccountsIQ provides valuable insights into the advantages of our platform and how it can transform financial management for businesses.
Salamanca Group's journey from Sage 50 to AccountsIQ showcases the easy transition and enhanced capabilities that our solution offers. Discover how we've helped businesses like Salamanca Group streamline their financial processes, gain better insights, and drive growth.
This valuable testimonial is just one example of the success stories we're proud to share. We hope it inspires confidence in the possibilities that await you when choosing AccountsIQ for your financial management needs.