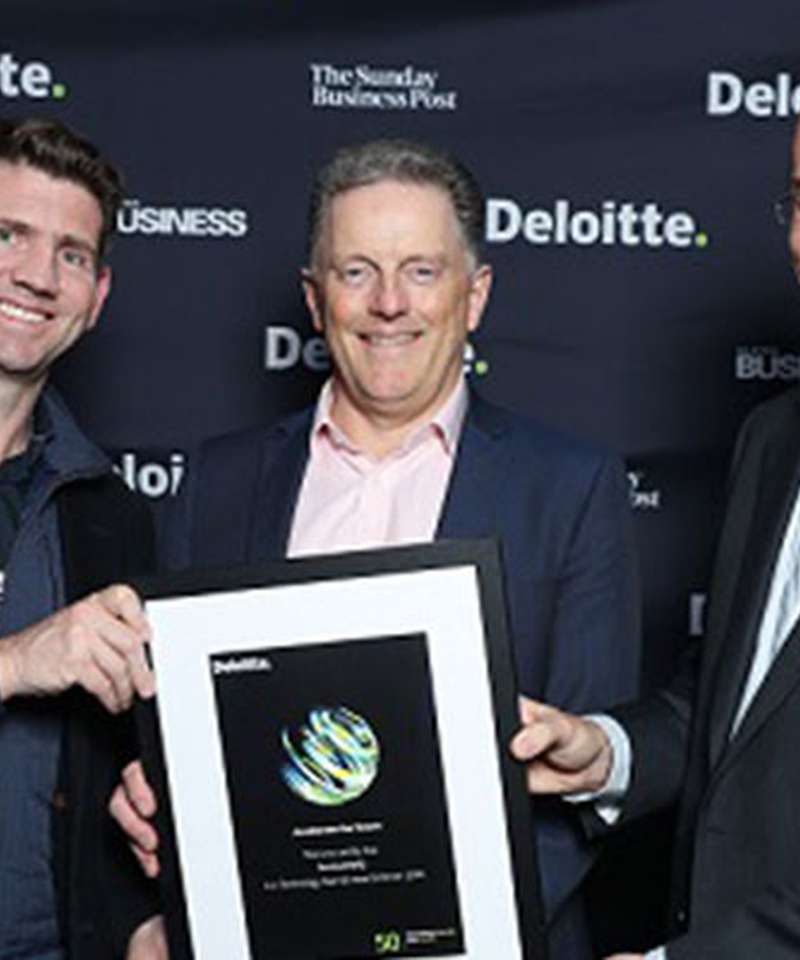 AccountsIQ attributes its growth to continual product innovation
Dublin, 8th November 2018 — AccountsIQ, the Cloud-based Financial Management software company, ranked 21 in the 2018 Deloitte Technology Fast 50, a ranking of the 50 fastest growing technology companies in Ireland. Rankings are based on average percentage revenue growth over four years and AccountsIQ have now ranked in the Fast 50 for the fourth consecutive year.
AccountsIQ's CEO, Tony Connolly, credits continual innovation with the company's growth over the past four years,
We are thrilled that AccountsIQ have ranked for the fourth year running, as one of the fastest growing technology companies in Ireland. This tops off a fantastic year for AccountsIQ having recently been awarded the UK's Enterprise Accounting Software of the Year 2018. We have added a lot of new customers, and we are on course to achieve 45% revenue growth in 2018."
AccountsIQ continually invests in product development, Connolly explains:
"AccountsIQ have a strong commitment to product innovation and also to listening to our customers, getting their collaboration and feedback in making AccountsIQ the great product it is. There has been a huge uptake of cloud solutions in the last few years and we are very thankful so many companies are seeing the advantage of cloud and adopting our platform."
Connolly continues, "We are in such good company in the Fast 50, with dynamic growing companies like Spearline Labs, SilverCloud Health and XSellco who took the top spot this year, all using AccountsIQ. These high-growth tech companies are great examples of the sort of clients adopting AccountsIQ, who need the functionality, sophistication and scalability to handle the rapid growth they are experiencing. AccountsIQ has always enjoyed a unique position in the technology sector as being a great fit for fast-growing businesses, particularly as they expand internationally."
"We plan to capitalise on the trend towards cloud solutions and have significant growth plans for 2019. We are investing in expanding our team in all areas.  We feel passionately that delighting customers helps underpin growth and therefore customer success is a key focus of this investment. Our recent accolade of being awarded the UK's Enterprise Accounting Software of the Year 2018, beating big brands like Sage, SAP and Exact, was mainly due to user voting, so customer satisfaction is core to our values and will continue to be a central theme as we grow".
About the Deloitte Technology Fast 50 Award
The awards, now in their 19th year, rank Ireland's fastest growing technology companies and recognises indigenous technology companies that have demonstrated exceptional growth in turnover in the last four years. The Fast 50 programme is recognised as a barometer of a company's success and provides it with a hugely valued, respected and marketable, public 'badge of honour'.
Cumulatively, the 2018 Fast 50 winners generated approximately €2.5 billion in total annual revenues in 2017. The average revenue of companies featured in the ranking was approximately €50 million, while the average growth rate of the companies over the last four years was 373%. Compared with last year, there are 17 new companies on the ranking. 12 of these are first-time entrants, while five companies have re-entered the list, having featured in previous years.
Announcing the winners at the Deloitte Technology Fast 50 programme, David Shanahan, Partner, Deloitte, said: "Congratulations to our 2018 Deloitte Technology Fast 50 companies. Through these awards, we recognise Irish technology companies that are at the cutting edge, using technology for progress, to address the challenges that we all face and to create opportunities, both for themselves and for those that use their products.
"We know that these companies are operating in an uncertain international marketplace. And yet they are prospering against this backdrop – in fact, it was particularly evident this year that the vast majority of revenues for the ranking companies are coming from export markets. This demonstrates the impact Irish indigenous tech companies are having in global markets."
The Deloitte Technology Fast 50 Awards took place in Dublin on 2 November 2018.
Details of the final Technology Fast 50 ranking list are available to download at www.fast50.ie