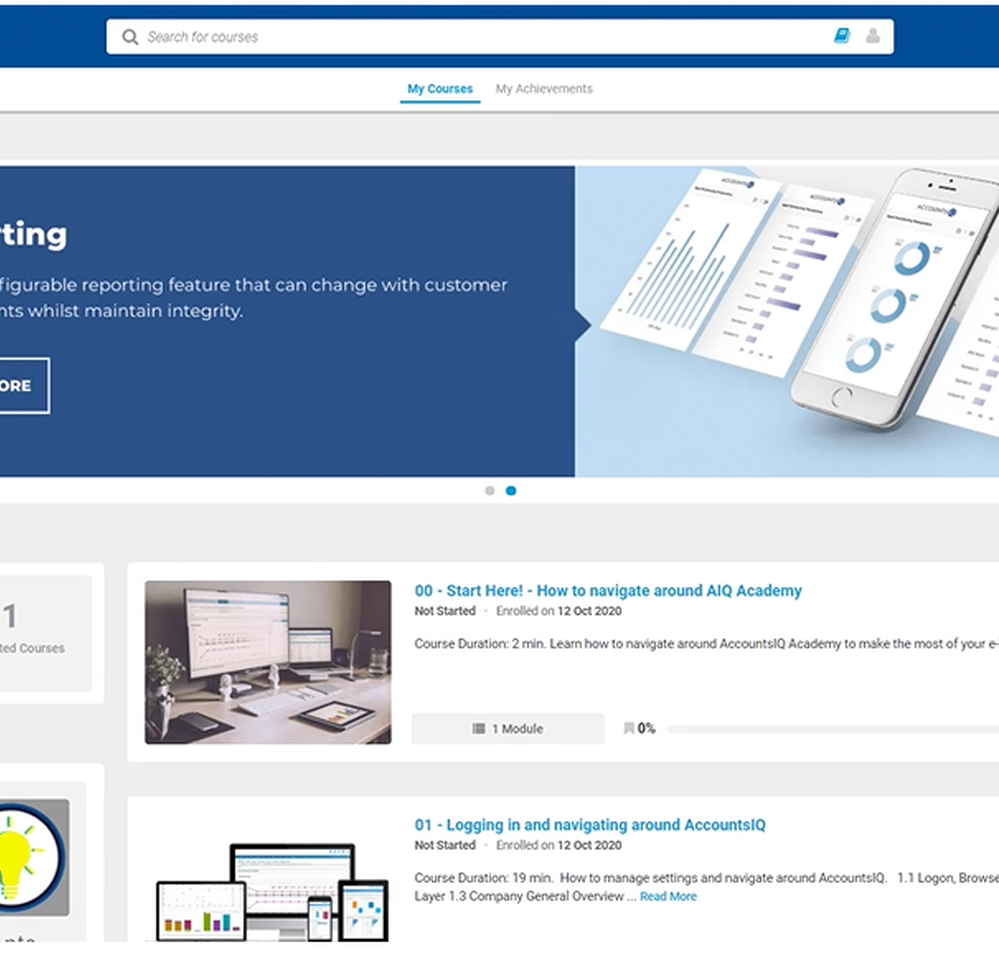 AccountsIQ's financial management software for mid-market businesses has developed AIQ Academy, a new e-learning resource, to make it easier for users to access "just-in-time" training on how to use the product for both new and existing users.
AccountsIQ has invested in AIQ Academy at a time when our customer base is rapidly expanding and in need of access to digital training. The number of users needing to be trained has increased exponentially in the last 3 years. With an ever-increasing number of software and integration partners, and a significant increase in the number of new customers adopting AccountsIQ Financial Management Software, it is a great time to provide a comprehensive e-learning platform that users can access on-demand.
Darren Cran, Chief Operating Officer, AccountsIQ explains,
With AIQ Academy we are able to deliver extensive expert user training from a single online platform. This means our users can access e-learning that is concise and at a time convenient to them. AIQ Academy will enable us to fast-track training and will make a big difference to the speed of onboarding new customers."
Covid-19 aside, on-site and webinar-based training remains hugely valuable and popular, and our e-learning platform is a great addition, providing users with the ability to self-serve and carry out their training as and when they wish.
Darren adds,
With AIQ Academy we provide role-based learning pathways; essentially training designed specifically for each user's needs. The courses are function-specific and enable everyone to access meaningful training based on their job function, from bookkeeper to finance director.  It also allows very focused training modules for more complex areas of the system like Consolidation, FX and Inter-Company while also providing quick learning paths for the Lite users of approval workflow or expense capture for company-wide roll out.  You can even get a report of users that have accessed and completed training."
AccountsIQ assigns the learning paths based on the job role, providing the necessary training at each level. Progress and certification levels can be tracked, meaning both AccountsIQ and the customers themselves can see the knowledge and understanding of the product gained by their users.
With over 100 video-based training courses, AIQ Academy has been a labour of love, with the main overarching aim of improving customers' skill levels and maximising the adoption of new features within our customer base.
It's important to us that customers can use the functionality they've purchased, hence why driving product understanding and adoption is vital." Darren adds.
AIQ Academy is powered by LearnUpon's LMS platform. AccountsIQ has partnered with LearnUpon as they are a leading e-learning company widely used in the SaaS industry and by numerous fintech clients.
Watch an overview of AIQ Academy below.
About AccountsIQ
AccountsIQ's award-winning financial management software simplifies how finance functions capture, process and report the results of multiple location businesses.
Built for the cloud, AccountsIQ is ideal for dynamic businesses that are growing locally or internationally, via subsidiaries, acquisition or through a franchising model, enabling anytime-anywhere processing, while allowing easy central control and consolidated reporting of results. Its unique consolidation engine, along with its ability to integrate with other applications, makes it easy to scale. Discover our cloud accounting software features.