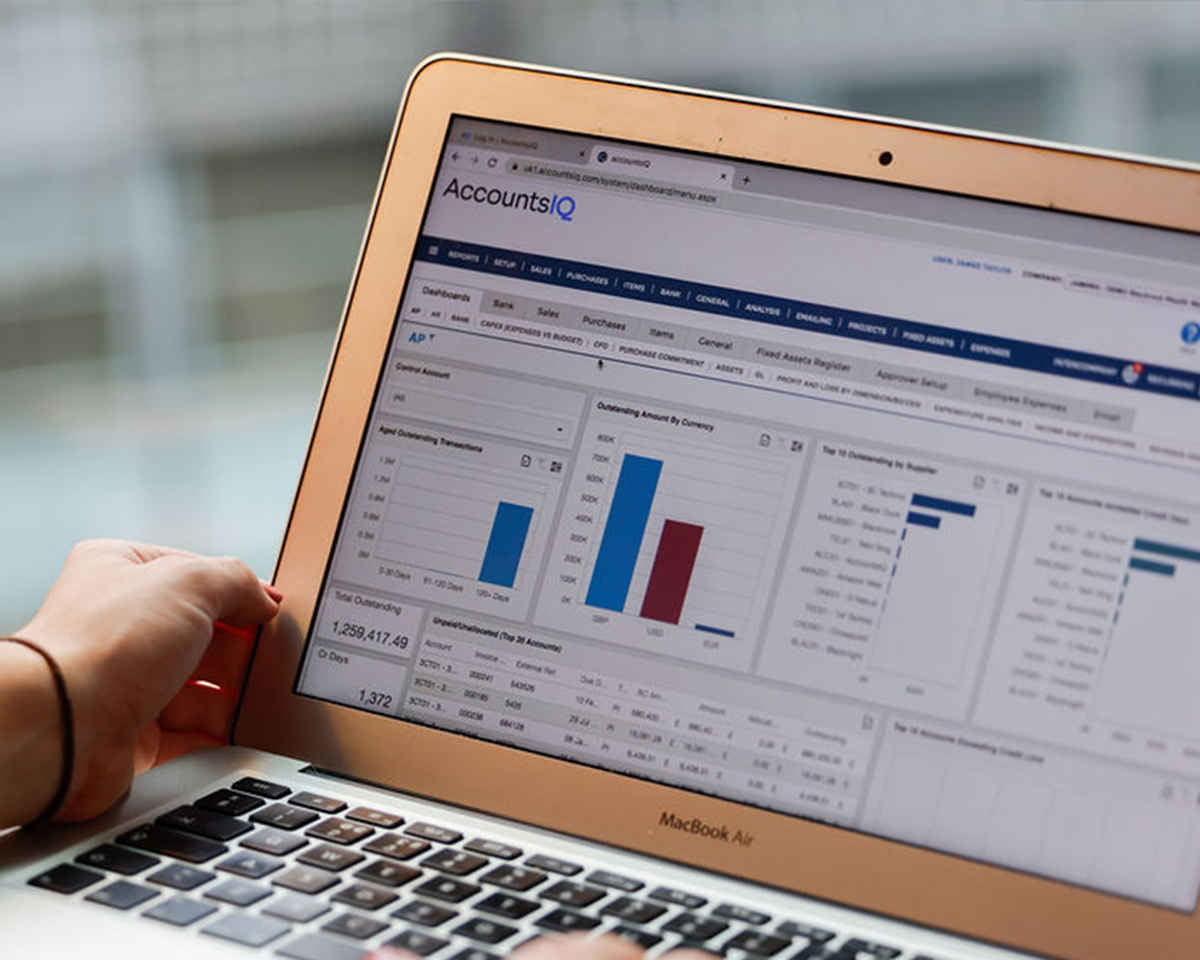 Consolidated Accounts: Immediate Insight into Your Group's Performance
The AccountsIQ consolidated accounts dashboard and reporting functionality has been upgraded to allow you to track the performance of your group organisation across multiple subsidiaries and potentially multiple sub-groups.  This enables you to immediately review the results of the whole group from the top level group company. It also enables you to drill down from an overall consolidated view to sub-group or subsidiary level, without having to log into that sub-group or subsidiary. Giving fast and easy access to high level results and KPIs (Key Performance Indicators), analyse and benchmark results and quickly identify issues across your whole group that may require further investigation.
The new interactive Consolidation Dashboards are designed to enable you to get insights into the results of your group and ultimately make better decisions.  However, these are just generic examples of the sort of Group level Management Dashboards that can be delivered via the system. If you have specific requirements for your own Dashboards we would be more than happy to discuss the development of tailored Dashboards. We can even give you access to our Dashboard builder if you have sophisticated requirements and want to develop your own Dashboards and KPIs and have in house report building expertise.
View Key Metrics across Your Group Organisation
The new Dashboards are based on GL, Sales and Purchases data already summarised by the system's consolidation software engine. Data is translated into the group's base currency from the underlying subsidiary and sub-group data. Dashboards are refreshed each time the consolidation routine is re-run. The BI Analysis structure is maintained from all subsidiary data so that it can be used at a consolidation level to slice and dice the group-wide results.
The following collections of Consolidation Dashboards are provided in this first release:
Chief Financial Officer View
This provides a list of useful KPI metrics across your group including Cash & Bank, AR, AP, Revenue & Expenses and Profitability. It's possible to drill down to the subsidiaries making up these overall values by double-clicking each KPI as shown in the graphic below: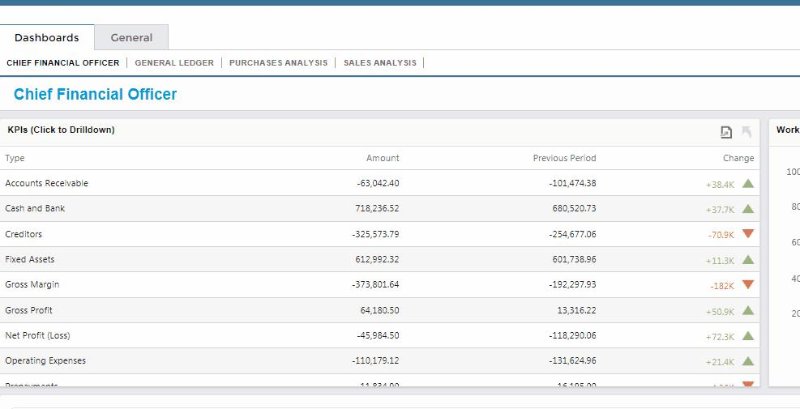 There are additional charts and data cards in this dashboard showing group wide Working Capital Trend, selected Income & Expense measures and Net Profit/Loss Vs Budget trend:

General Ledger View
This collection of dashboards displays Profit, Revenue & Expenses trends by period at an overall level across the group. For a selected period or group of periods you can then view performance for each subsidiary in the group using the bar chart shown to drill down into the data. You can use the options available to filter by a single or multiple periods for example and this will drive the related charts as shown below: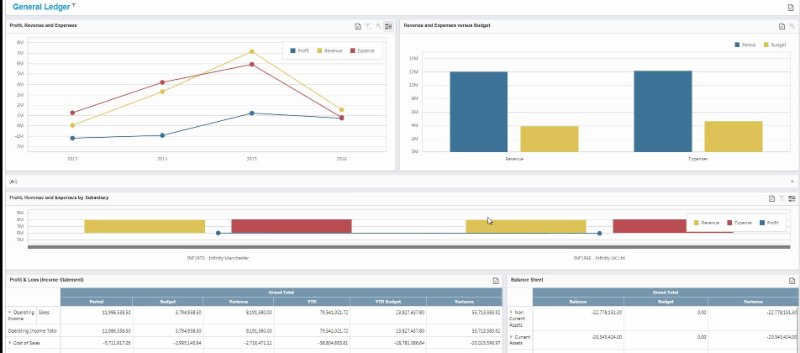 In addition, there are tabular views of the Profit & Loss (Income Statement) Vs Budget and Balance Sheet available. The values in these tables are driven based on the filters selected above for financial period and subsidiary.
These tables can now be easily exported to Excel using the option shown below: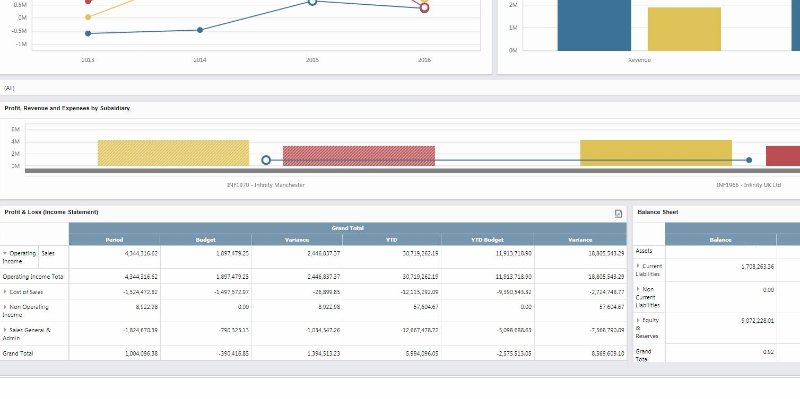 Sales & Purchases Analysis
The Sales & Purchases Analysis dashboard collections display overall sales and purchases movement trends by year and then by period across the group.  These are particularly useful to analyse sales or purchases across a group, where the same products/items/services are bought or sold across the group. In the case of multicurrency consolidations, the sales and purchases movement values are translated into the group reporting currency at the period average rate value maintained at group level.
You can view the relative performance by quantity sold/purchased by net value across all subsidiaries. There's built in flexibility to enable you to view this data at different levels or 'dimensions' including by Customer/Supplier, Customer/Supplier Group, Product, Product Group, Area and Region.  Again, you can use the interactive filtering capability to select a particular period and then drill down to performance at subsidiary level. This is only a sample of the full potential of the consolidated Sales and Purchase analysis data.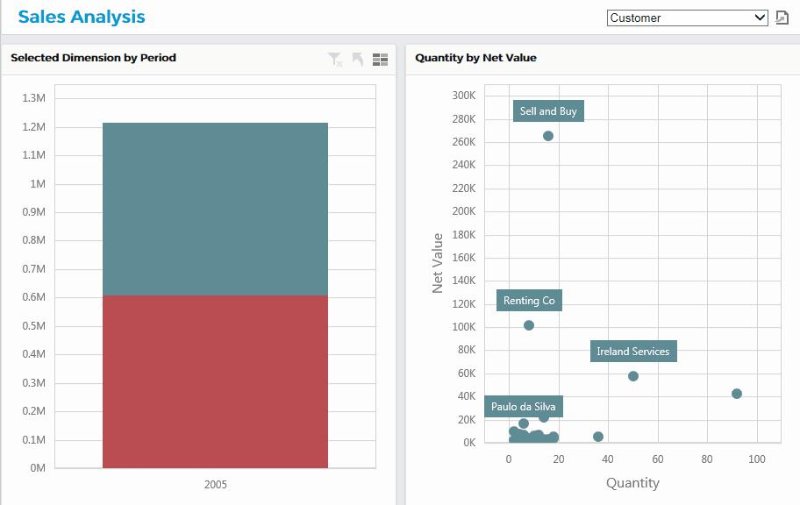 Learn More
AccountsIQ's award-winning Cloud-based accounting software has helped thousands of customers get deeper insight into their business performance and streamline their finance team's processes, saving a huge amount of time such as Tindle Newspaper Group.
I don't know of any other system that can do consolidation the way AccountsIQ can. It takes a lot of complexity out of everything and that saves us a lot of time. It used to take two weeks to do our accounts; with AccountsIQ and other improvements, we now get our accounts out in five working days," Wayne Copeland, Head of Finance, AES International.
For a chat about your consolidated accounts requirements call us on + 44 (0)203 598 7350  or request a Demo.