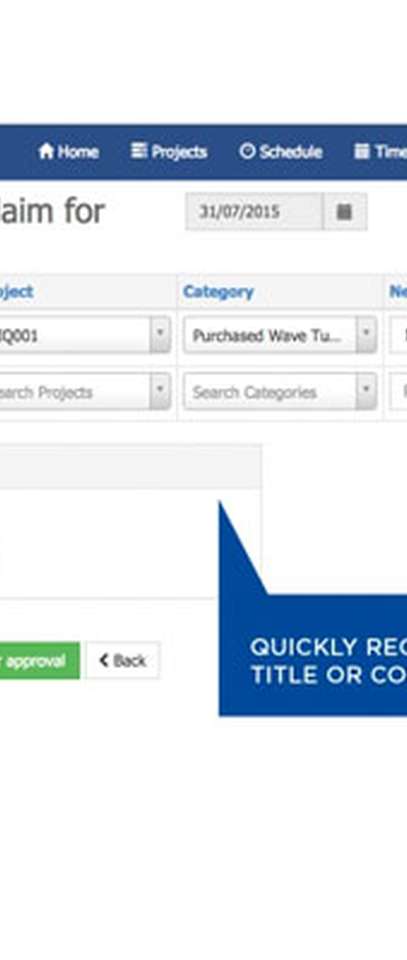 As part of our ongoing system enhancement we are also pleased to announce the launch of our new Project Accounting module.
Our Project Accounting software feature enables you to create and easily manage projects. You can record all time spent, user expenses incurred and third-party supplier invoices against particular projects.
You can also track project performance using project specific KPIs (key performance indicators) and custom reports.
In summary, our new Project Accounting module:
Ensures accurate time and expense accounting against specific projects
Improves project cashflow and eliminates revenue leakage
Tracks project performance against targets and provides custom reports
Enables project management with resource allocation and forecasting
Accurate Time and Expense Accounting
Our Project Accounting software features allow you to set-up projects easily on the system. You can then record and track all time spent, user expenses incurred and third-party supplier invoices for that specific project. You can also track time spent on non-chargeable activities, such as administration, training, holidays and sick leave and create graphical reports including a graphical absence planner.
Improve Project Cashflow and Reduce Revenue Leakage
Our solution reduces time to invoice through automatic invoice generation. You can create invoice templates with bespoke headers and logos. You can invoice in different currencies using user-defined exchange rates, and manage invoice history within the system to better understand status. You can also create comprehensive reports including aged debtors and invoices/credit notes so you can keep on top of project income and expenditure.
Track Project Performance
Our Project Accounting feature provides a comprehensive suite of reports as standard but in addition, you can use our Report Builder tool to create your own custom project reports. You can also use out dashboard feature to create custom project dashboards. As well as standard financial parameters you can use up to 6 user-defined parameters such as industry, region, project type, department etc. to track your project performance against budget. Having an accurate report on project performance enables more precise planning of fees and costs for future projects.
Improve Project Management and Resource Deployment
Our Project Accounting software feature supplies a centralised project data store with text search function for quick access to all projects. Project set-up is easier and faster with a time-saving project set up facility, with default settings. Separate budgetary screens ensure costs are effectively managed. Project management is enabled with an all-in-one project management screen, custom project KPIs and reports including resource utilisation vs target; revenue vs target; forecast and actual revenue vs costs; work-in-progress financial analysis.
It's also simple to track project time against budget, review and adjust resource requirements and see the impact on cost forecasts. With all the information you need at your fingertips you can ensure you have enough staff to fulfill the project commitments, optimum staff utilisation is achieved and future project planning can be improved. Updated 'How to Guides' provide instruction on how best to use our new and improved features with relative ease. You can also request Project Accounting Module Demonstration with one of our product specialists to gain a greater understanding of the benefits of this enhancement.
Learn More
Discover how Linesight, a global Construction Group use AccountsIQ's project accounting software to gain visibility of performance across their entire group down to project level, get customised reporting at the touch of a button and can easily monitor project performance.
Learn more about AccountsIQ's additional modules.