It's an exciting time for AccountsIQ – and we invite accountancy practices and software reseller partners to be part of our growth.
AccountsIQ's intelligent financial management software, which can easily integrate with automated invoicing, payment, expense management and CRM solutions, can enable you to attract and retain larger clients that have outgrown the capability of other cloud accounting systems.
With our multi award-winning cloud accounting solution, you'll also be able to deliver higher-value advisory services with the deep business insight gained from AccountsIQ.
Our Partnerships
We currently partner with outsourcing teams in accountancy practices from the Big 4 to independent mid-tier firms, as well as independent software vendors such as ION Industries. The network is expanding and there is an opportunity for new partners to grow with us. Whether you want to grow the services offered to clients or provide best of breed, mid-tier cloud accounting solutions, working with AccountsIQ could help you meet the demand in the mid-tier market.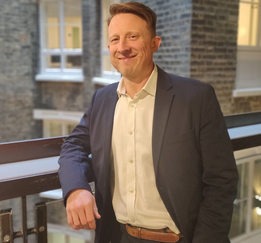 Mark Hollingworth, Sales Director is responsible for developing relationships with accountancy practices and professional services customers. He explains:
There is huge opportunity for AccountsIQ within the accountancy practice  and software reseller market as it's a platform that is a great fit for companies whose larger clients have more sophisticated accounting and consolidation requirements and there's not much else that's affordable in the mid-market."
Interested in becoming a partner?
If you'd like to discuss becoming a business partner, please complete the business partner form. If you are interested in becoming an accountancy practice partner, please complete the practice partner form. 
About AccountsIQ
Built for the cloud, accounting software from AccountsIQ with a powerful General Ledger at its core, makes advanced financial analysis affordable for mid-sized organisations worldwide. Its unique way of producing consolidation reports in real time makes AccountsIQ an obvious choice for multi-company businesses. AccountsIQ's ability to integrate with other applications allows customers to join up processes and information business-wide and replaces legacy accounting software.
AccountsIQ was awarded Enterprise Accounting Software of the Year in the UK two years in a row, by Accounting Excellence's expert judging panel. The awards are based on customer feedback on the product; rating functionality, ease of use, quality of support and value for money. We have also been ranked in the Deloitte's Technology Fast 50 high growth index 5 times in the past 6 years.
Today, over 4,000 companies in 85 countries enjoy 24-7 access to top level Financial Management functionality, providing smarter working practices, including integrated approval workflow app, expenses app and API integration with front end systems, while delivering simple and accurate consolidated results and a superior level of business insight.